TUB HISTORY - CAST IRON AND CLAWFOOT BATHTUBS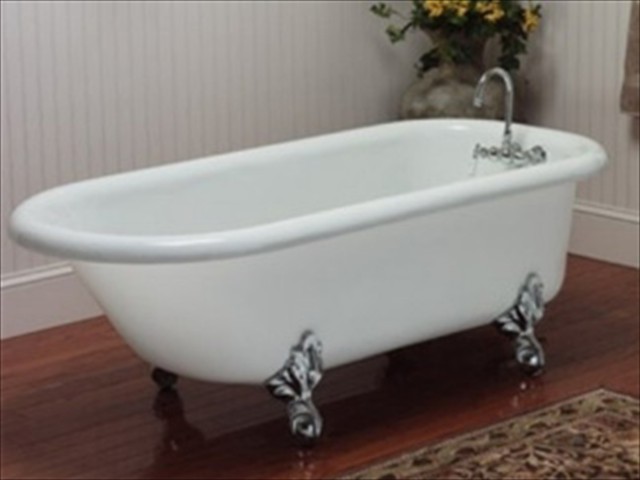 The old cast iron clawfoot tubs you mainly see around today were made by a company called Standard Sanitary Manufacturing that is why on the bottom you will usually see SSM or Standard. Originally, they were a maker of cast iron plumbing piping, but after subsequent purchases and a merge with another large company by the name of American Radiator they became what you know of today as American Standard. They had a large plant in Toronto and one I believe called Port Hope near Cornwall. On the bottom you could see this name instead. Also, its quite common to see a year-made stamp (even a month and day!).

Feet for these tubs are often lost however we have contacts who cast them for about 200.00 per set (various styles to fit). As well as sell accessories like hand shower faucet sets, and chrome supply lines, etc. Some people opt to stand them on large wooden blocks attractively contoured and finished instead.

Bathtub refinishing / reglazing first began as a service for these lovely old fixtures and has been around for many, many years now. Today, the products / coatings have greatly improved and are much faster to apply and cure. Like most jobs, prep is extremely important so the combination of a good coating product and the diligence of the refinisher creates an end result that will last for many, many years trouble free and looking like new.
---
TUB HISTORY - SOLID PORCELAIN BATHTUBS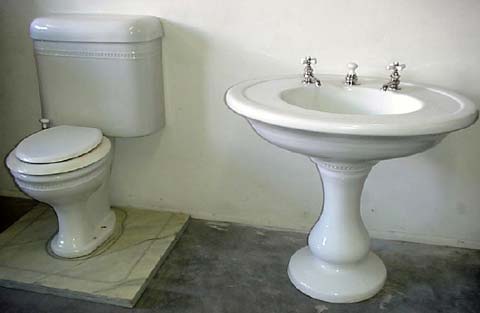 In the late 1870s and early 1880s, American sanitary ceramic ware manufacturers figured out how to cast and fire heavy solid earthenware bathroom fixtures such as bathtubs and sinks, and have them hold their shape in the process. As a result, the top companies in America began to offer solid porcelain bathtubs in the 1880s. These tubs were made of a tan fireclay or earthenware material and coated in glossy white glaze with walls and bottom 3-4" thick.!

There is no cast iron in these tubs to give them their shape. These fixtures never suffer from rusty and chipped drain holes, and the finish is pure glass. You could not scour the shine away with Ajax or Comet. These tubs shine like the finish is 2" deep. Big, heavy and hard to handle, they would be lifted by cranes into the upper floor master bathrooms of the finest homes being built in North America during the
last 20 years of the 19th century and the first 20 years of the 20th.

These tubs came in Right corner, Left corner, and back wall mounted styles, as well as freestanding Roman and French styles that sat on an integral base or stubby pedestal legs. There were foot tubs and sitz tubs to match. Today, any of these tubs are very hard to find. The foot tubs and sitz tubs were very rare in the first place. But the big tubs are all gone because so many of them have been destroyed. They are very hard to salvage because they are ungodly heavy and so darned hard to handle.

Most contractors just smashed them up and hauled them out in wheelbarrows rather than go to the trouble to carefully remove them from upstairs bathrooms during remodels. Then, if you do find the tub, the drain and valve hardware is almost always gone because it was easy to cut off and haul to the metal scrap yard. There is about 40 lbs of brass in the set of hardware on this Peck Bros. corner tub shown above. This is a 60" tub with a total length of 66" including the hardware. 36" wide. Weighs around 900 lbs!

Few people have had the opportunity to actually take a dip in one of these tubs, but we have been told that to do so is sublime.



---